Ezz Steel Suez: rebar and HRC produced to perfection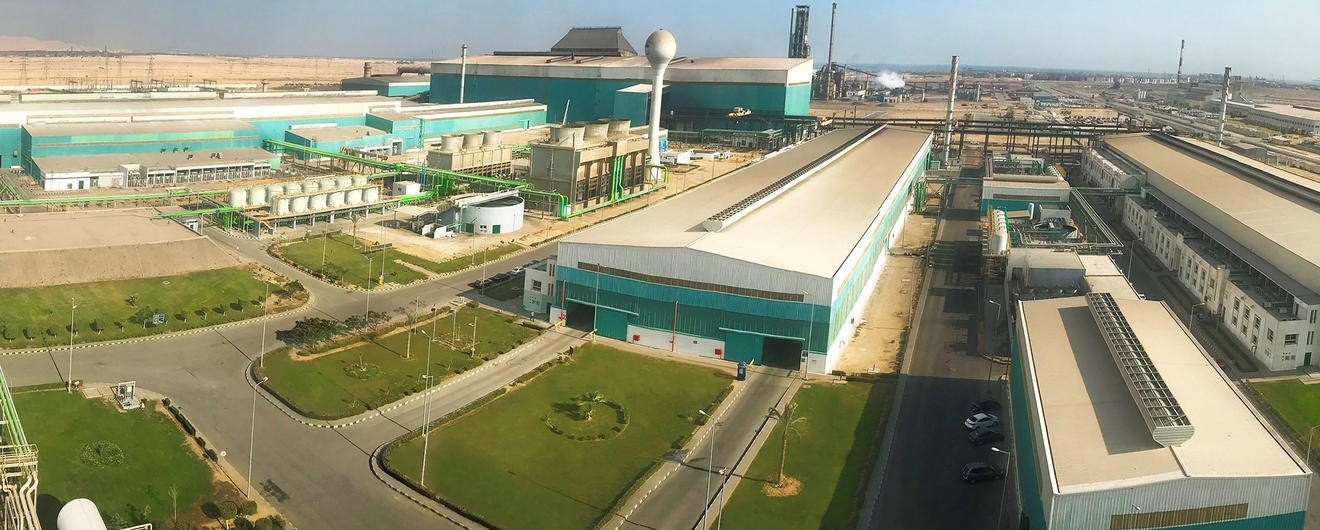 The Ezz Steel complex at Suez has the capacity to produce 1.1m tons of rebar and 1.2m tons of hot rolled coil (HRC) per year, in a fully integrated process.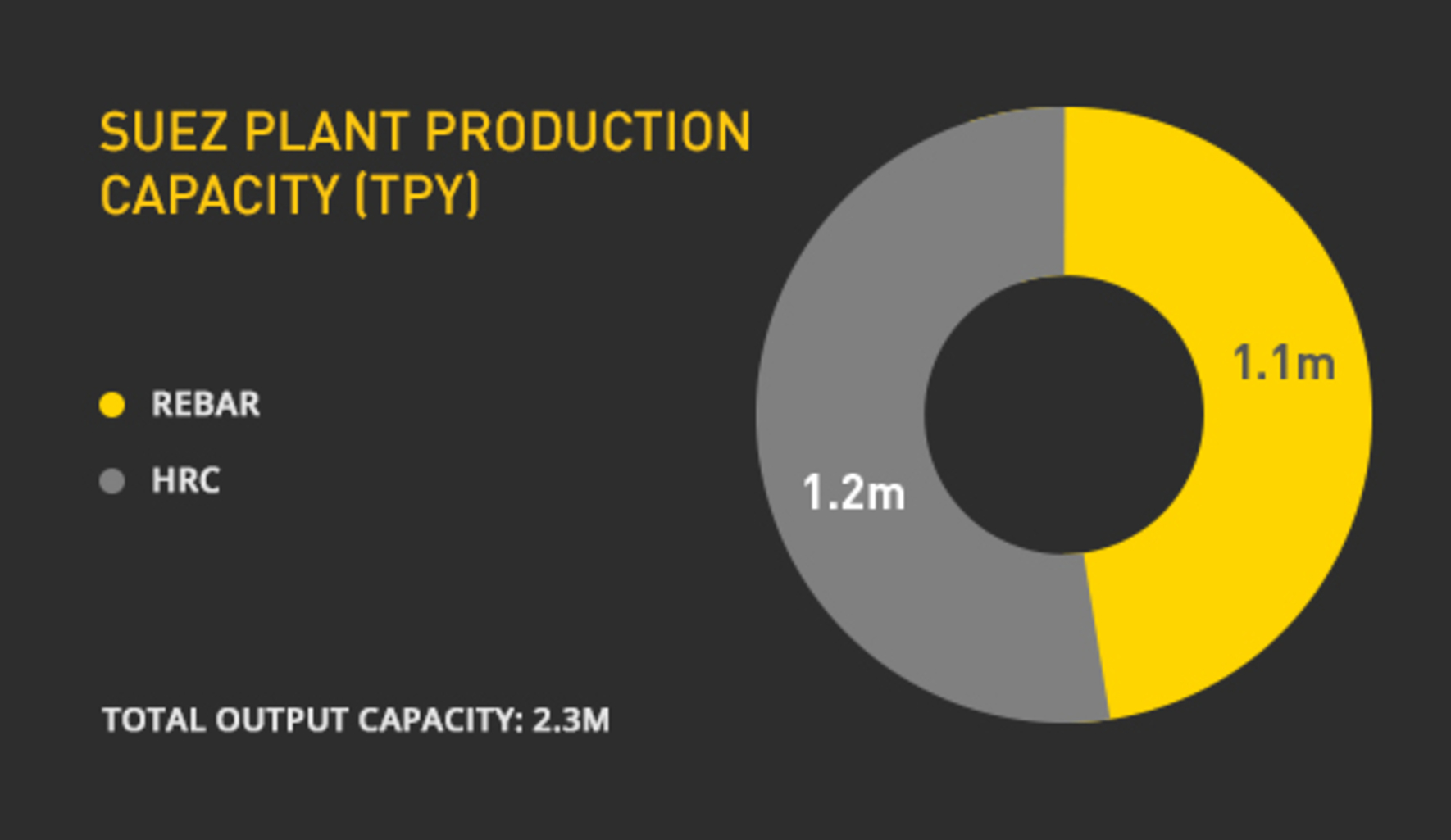 Integration at Suez Complex
The Ezz Steel complex in Suez – Al Ezz Flat Steel Co. – is fully integrated, it incorporates a direct reduction mega module for producing high-quality Direct Reduced Iron (DRI), with an annual production capacity of 1.9 million tons, as well as an electric arc furnace coupled with continuous casting for billet and slab production. Rolling and strip mills produce rebar and HRC. The combined output of the long and flat steel plants is 2.3m tons per year.
The Suez complex has excellent transportation links, allowing regular raw material intake and efficient shipping of finished products to customers. The development of Ain Sokhna port to accommodate ships up to 150,000dwt has increased the plants' export capacity.
The iron ore (oxide pellets or lump ore) is reduced in the DRI mega module using HYL/Danieli technology. This energy-efficient process uses natural gas reforming to produce the reducing gases (CO and H2).
Steelmaking at Suez
Molten steel is produced by a 185-ton Electric Arc Furnace (EAF), with 133/160 MVA transformer, with the ferrous charge comprising up to 80% DRI and 20% high-grade steel scrap. The molten steel is refined in a ladle furnace (LF), which ensures tight control of chemical composition, low levels of inclusions and homogenous chemistry and temperature.
Rebar production at Suez
Suez complex has one of the most modern billet casters in the world, a six-strand continuous casting machine, producing 1.3 million tons of billet per year in sizes from 100x100mm up to 160x160mm and with lengths of 8 and 12 meters.
Billets are rolled into rebar in two bar mills at Suez complex, which produce deformed rebar in diameters ranging from 10mm to 40mm. In the bar mills, billets are heated in an 85-ton per hour walking hearth furnace before entering an 18-stand continuous rolling mill. Bars are cut to multiple lengths after rolling, to meet customer requirements.
HRC production at Suez
The Suez HRC hot strip mill houses flexible Thin Slab Casting and Rolling (fTSCR) technology from Danieli. The mill is based on the well-established 'mini-mill' concept, with liquid steel produced by melting DRI and high-grade steel scrap in an electric arc furnace.
The molten steel is transferred via a continuous process into the hot strip mill, which consists of one roughing stand and six finishing stands producing 1.2 million tons of HRC per year. The plant produces precise product attributes, available in thickness ranging from 1.0mm to 12.7mm in widths from 1000mm to 1560mm and coil weights from 7 to 25 tons.
The Danieli-built plant includes a thin-slab continuous caster equipped with liquid core reduction from 92mm down to 70mm, which enables us to produce very thin gauges of HRC, down to a minimum thickness of just 1.0mm. Few other mills in the world can produce such thin steel.
The Suez complex houses a Skin Pass Plant (SKP) with an annual production capacity of 0.5 million tons, this plant creates a high-quality product by improving the flatness of thin gauge HRC to meet client expectations.